Great Reasons to Stay at Padre Burgos Castle Resort....
Extracts from our Guest Book...
'Had a wonderful relaxing week. Enjoyed the very friendly, attentive & smiling staff, the amazing food & beautiful nature & resort.'
Christina, Morten & Family, Denmark
August, 2015

'David & Delia are wonderful hosts. The food, service and accommodation were all fantastic! We also had a great day of dolphin and whale shark watching.'
Dennis & Marife, USA
January, 2016

'This place is really a jewel, the rooms are clean and nice, the view is beautiful and the diving spots exceeded our expectations, so did the amazing food and friendly staff.'
Anibal & Anke, The Netherlands
February, 2016

'Thank you for a perfect week here in paradise! Diving sites were excellent & the food was simply superb! Dive crew and dive master were fantastic.'
Nick & Samantha, Singapore
April, 2016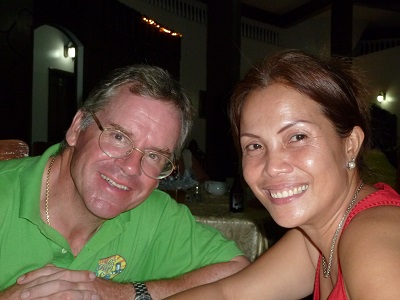 David & Delia Warren are a husband and wife team who own and run Padre Burgos Castle Resort. David is of Scottish descent, brought initially to South East Asia by business interests. Delia is a Filipina originating from Bohol, close to Leyte, and worked in Singapore where we met and married. Together we understand the requirements of discerning guests and have an intimate knowledge of the local traditions, language and culture.

Our mission is to provide the best possible holiday accommodation, food and service and give our guests a unique experience of all the delights this beautiful region has to offer. Together with our committed and knowledgeable Filipino staff we will be your hosts and can organise and advise on all aspects of your holiday to ensure that your stay is immensely enjoyable, relaxing and rewarding.

We can assure you of a wonderful holiday here at Padre Burgos Castle Resort because:
• We live year-round in the resort grounds, together with our 7 year-old daughter Nikka, and have an intimate, first-hand knowledge of the local area.




• We are 'hands-on' with managing all aspects of your holiday, from responding promptly to your initial enquiry to waving a fond farewell upon your departure.




• Delia is the chef (rated 'world-class' by some guests) ensuring all meals are tailored to your wishes and prepared to our exacting standards.




• When things get broken we fix them, so the swimming pool is always operational, the water always hot, the air-conditioning always cool, the beach always clean, etc.




• We have just 5 beautiful guest rooms, and we pay close, personal attention to all our guests, whatever their wishes may be.




• As an accredited PADI Dive Resort we run superb guided scuba diving, snorkeling, whale shark and dolphin watching trips only for very small groups so you can enjoy these adventures to the full and at your own pace.




• Our satisfaction comes from your enjoyment of your holiday.