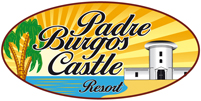 Tangkaan, Padre Burgos, Sogod Bay, Southern Leyte,
6602 Philippines.
Tel: +63 9275488598 / 9174082529
Email:info@padreburgoscastle.com
Join Us On Facebook

Luxury Dive Packages!
Packages include 2 dives per day in very small groups of just 2 to 4 divers, Deluxe Room accommodation with breakfast.
Package rate from Php 4,200 per person.
E-mail or call us for more details, or use the box below to book on-line.
~

Conditions in Padre Burgos
Cloudy
24 - 26°C
Strong Breeze, SW


Water Visibility

Good

Whale Sharks

No

Dolphins

Yes
Luxury Boutique Hotel & Dive Resort - Southern Leyte, Philippines.

Nestling in an idyllic and protected position above a private beach, Padre Burgos Castle Resort is a beautiful, family-run, boutique hotel and dive resort offering a sensational blend of luxurious accommodation, superb food, rewarding activities, and a true insight into Philippine culture untainted by mass tourism.

Famed for the magnificent whale sharks which migrate here every year, and its world class snorkeling and scuba diving, Padre Burgos is a peaceful fishing and farming village, where visitors are welcomed with genuine warmth and quickly immerse themselves in the friendly, unhurried lifestyle and authentic charm of the local folk.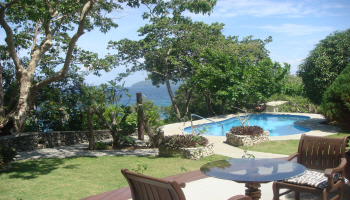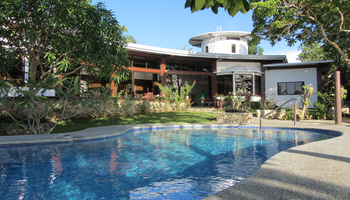 The resort provides a stunning and secluded private beach, beautiful swimming pool, excellent water sports and captivating sea views across warm, clear, tropical waters teeming with marine life. Your relaxation and comfort are assured in beautiful guest rooms, all air-conditioned with en-suite bathrooms, while the hotel's lounge, restaurant, bar and swimming pool are all close at hand, and steps cut into the cliff will bring you directly down to the magnificent private beach and house coral reef. The owners, and our dedicated and attentive staff, are always on hand to ensure you gain the maximum possible satisfaction from your holiday.

Despite its remote location and low visitor numbers, the area offers a multitude of rewarding activities and eco-adventures in harmony with the beautiful and unspoilt setting. Explore the pristine coral reefs and discover the exceptional marine bio-diversity of Sogod Bay. Let professional dive masters and instructors show you some of the best scuba diving in the Philippines or do some amazing snorkeling at Southern Leyte's beautiful and deserted spots. Join our whale shark watching tour and experience an unforgettable day swimming with the world's largest fish. Visit our water sports centre, at the resort's private beach, and choose from dolphin watching, sailing and kayaking, while other activities include caving, clambering up waterfalls, hikes to hill-top communities, and island tours.

As the sun sets over the Bohol Sea, why not relax and indulge in a massage or try a delicious cocktail at the pool side terrace. Your dinner, served under the stars, is always a daily highlight - lovingly prepared, beautifully presented and truly exquisite.

Whether you wish to relax, to gain insight into the local way of life, or to engage in the wonderful activities available, Padre Burgos Castle Resort promises you a fantastic experience. With luxurious accommodation, top class cuisine, fine wine, and idyllic surroundings, this is truly the perfect place to unwind and immerse yourself in genuine, warm Philippine hospitality.