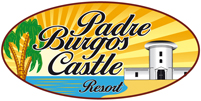 NEW!
Economy Room
for Divers!
~
Ideal for keen scuba divers who wish to stay at a high-quality resort at a budget price and do 2 (or more) scuba dives per day at one of the world's best all-round diving locations. Pristine coral reefs, spectacular walls, outstanding macro, whale sharks, wonderful night dives.
~
Book on-line now using the box above or call or e-mail us any time!
~


Divers' Economy Room
&nbsp

Adventure Holidays
&nbsp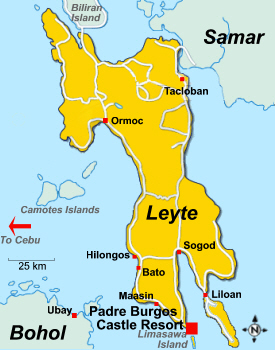 Padre Burgos Castle Resort
Tangkaan, Padre Burgos, Southern Leyte,
6602 Philippines.

Where To Find Us
Conditions in Padre Burgos
Beautiful Boutique Hotel & Dive Resort - Southern Leyte, Philippines.
Nestling in an idyllic and protected position above a private beach, Padre Burgos Castle Resort is a beautiful, family-run, boutique hotel and PADI dive resort offering a sensational blend of luxurious accommodation, superb food, outstanding scuba diving and snorkeling, rewarding activities, and a true insight into Philippine culture untainted by mass tourism.


Resort Services
Adventures In Tranquillity
Underwater World
The resort provides a stunning and secluded private beach, beautiful swimming pool, excellent water sports and captivating sea views across the warm, clear, tropical waters of Sogod Bay, which teem with marine life.

Your relaxation and comfort are assured in beautiful guest rooms, all air-conditioned with en-suite bathrooms, while the hotel's lounge, indoor and outdoor restaurant, bar and swimming pool are all close-at-hand non-smoking areas, and steps cut into the cliff will bring you directly down to the magnificent private beach and house coral reef.

The owners live in the resort grounds and, together with the dedicated and attentive staff, are always on hand to ensure you gain the maximum possible satisfaction from your holiday.
Whether you wish to relax, to gain insight into the local way of life, or to engage in the wonderful activities available, Padre Burgos Castle Resort promises you a fantastic experience.

In addition to unbeatable diving and snorkeling, our dive & water sports centre, located at the resort's private beach, also offers outstanding dolphin watching, island hopping, sailing and kayaking. Other activities include caving, clambering up waterfalls, interacting with wild monkeys, hiking to hill-top communities, and island tours.

As the sun sets over the Bohol Sea, why not relax and indulge in a massage or try a delicious cocktail at the pool side terrace. Your dinner, served under the stars, is always a daily highlight - lovingly prepared, beautifully presented and truly exquisite.
The pristine coral reefs and exceptional marine bio-diversity of Sogod Bay make Padre Burgos an outstanding destination for underwater enthusiasts. As an accredited PADI Dive Resort we are ready to show you some of the very best scuba diving in the Philippines and there is amazing snorkeling to be enjoyed at Southern Leyte's beautiful and deserted spots.

Whale sharks cruise the shallow waters from November through May and with our whale shark watching tour you will experience an unforgettable day swimming with the world's largest fish.

We offer scuba diving, snorkeling & whale shark watching tours only for very small groups to ensure that you enjoy the unbeatable diving and snorkeling available in Southern Leyte to the full and at your own pace.